Living in the City
Financial Information
The cost to seek a U.S. college education while living in the Bay Area can be expensive
The Student and Exchange Visitor Program (SEVP) requires international students (those on F-1 and J-1 visa) to verify that they or their sponsor(s) have funds available to pay for the following expenses to study at SF State:
Tuition and fees
Housing, food, living expenses
International student health insurance
Books and school supplies
Technology for school
Travel/transportation/commuting expenses
F-1 and J-1 International students can not rely on U.S. financial aid, school emergency funds, or employment in the U.S. to pay the above expenses
Other Useful Information
Social Security numbers are assigned to people who are authorized to work in the U.S.  Social Security numbers are used to report worker's wages to the government and to determine eligibility for Social Security benefits.  Social Security Administration will not assign a number to F-1 international students and J-1 exchange students just to enroll in a college or school.  Students must obtain U.S. work authorization BEFORE applying for SSN. 
An SSN is not a U.S. work authorization.  Students should not assume they can work in the U.S. just because they have SSNs. 
What is "Scam" and "Fraud"?
"Scam" and "Fraud" refer to when someone uses deceptive or dishonest tactics to steal another person's money, property, or information.
Below examples are some common scam calls/emails that international students receive. Unfortunately, some scams and fraud specifically target international students. Students should use the information below to protect themselves, friends, and family from falling victim to common scams and fraud. 
Immigration Scams
Scammers, often pretending to be from the federal government, sometimes lie by telling the student they are federal agents and then use scare tactics to trick international students into paying them money. For more information, see Scammers go after international students' money on the U.S. Federal Trade  Commissions (FTC)' website.  According to the FTC, once the scammer has obtained the international student's phone number, they will do the following:
"The caller typically knows about a student's immigration status and the program or school they're attending. He'll say there's a problem with the student's immigration documents or visa renewal. And then he'll demand immediate payment, often thousands of dollars, for a fee or bogus immigration bond. These callers have made threats, including arrest or deportation if the students don't pay, and they ask to be paid with gift cards (like Google Play or iTunes) or a cryptocurrency (like Bitcoin)"
Remember, the federal government will never call a student and ask them to pay for "fines" over the phone and/or through gift cards (Amazon, itunes, Google play, etc) of any sort.
The scammer might even speak in a student's native language to make it sound more convincing. Contact the F-1 International Student Advisors at OIP if they are told there is a problem with their F-1 status. The F-1 advisors are responsible for monitoring their F-1 status and have full access to their SEVIS record and I-20.  If we are to call students for their F-1 status issues, we will always state our full name and job title at the beginning of the phone call.
Job Scams
When seeking available jobs, student should be careful of job scams. Job scams tend to have a sense of urgency, telling students to "Apply now or lose out forever!" this is to make sure people don't take time to think about the job.
There may also be a sense of secrecy, like asking students to use their personal email, don't tell anyone, or they claim to work for XYZ company, but is emailing students with a gmail account (if they work for XYZ company, they should have a XYZ company email address).
The scammer may ask students for money to "cover" costs up front and they will pay students back with MORE money for their trouble. It's too good to be true, like no interviews, no minimum qualifications, flexible hours without discussion of what the schedule is, flexible work location before discussion of company policy, extremely good pay before determining skills. Pretty much "anything you want, you got it" type of jobs.
There is more information on the CSLD website on avoiding job scams and what to do if students accidentally fall for a scam.
NEW!
Watch OIP's Recognizing job scams recording (Link to YouTube. Length: 4 minutes). In this video, we discussed how job scam emails looks like and what students need to do if they fall for a job scam.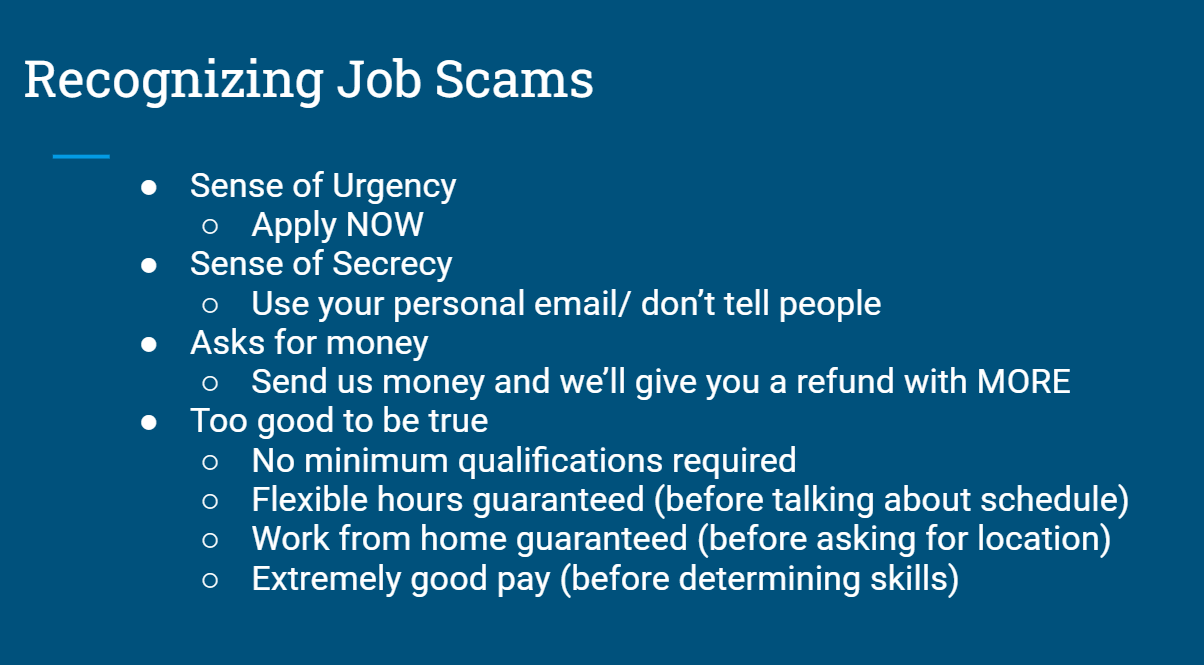 Internal Revenue Service (IRS) Scams
Students may receive phone calls from individuals, claiming to be representatives of the Internal Revenue Service (IRS). These fake representatives may threaten international students for unpaid taxes and may even tell the student that they will receive jail time if they don't do what the scammer says. Often, they will ask for the student's social security number over the phone. A real IRS employee would never do this.
NEVER give anyone Social Security Number information in full over the phone. Also, no one ever pays taxes over the phone or through gift cards.
Apartment Rental / Housing Scams
Another common way that scammers attempt to trick international students is through housing scams. Before moving to the United States, international students often search for housing while abroad. Searching for long-term housing before arriving in San Francisco can be risky. For example, scammers may post fake apartment photos online and ask students to make deposit payments before they arrive in the United States or sign a rental contract. A few things to remember:
Students should never pay a security deposit, fee, or first month's rent before they've signed a rental contract. 
Don't rent an apartment that is unavailable to see in-person before signing the contract.  
Do not provide a photocopy of a passport to the "landlord".
Further reading:
Suspicious Phone Calls
If students receive phone calls like the ones mentioned above that ask to provide money, do not respond. Stop talking to the person on the phone, and hang up immediately. Here are some additional tips:
Do not provide any personal information. Additionally, if the scammer who called the student asks them to confirm personal information such as their full name, birth date, social security number, etc., do not confirm the information.
Speak to someone trustworthy about the call. If students think they may have received a suspicious call, contact the F-1 International Student Advisors, even if the call is not related to F-1 status. Oftentimes, international students realize a call was a scam only after talking with someone else about it. Discussing such situations openly is also a good way to prevent others from falling victim to scammers.
If students are convinced the call is real, make sure to ask for the caller's full name, title, and agency, and call back number so they can either follow-up if the case is legitimate or report the scam to the police.
Phishing Emails
Phishing is a type of online scam where scammers send an email that appears to be from SF State or a legitimate company. Oftentimes, a phishing email will ask to click an external link or provide sensitive personal information. For more information about phishing emails, read SF State's Information Technology Services (ITS)'s Phishing Guide and learn how to protect personal email and password information.   
Other Helpful Tips
The resources below contain helpful information about the increasing prevalence of scam calls and emails.  Read through this information and share it with friends:
California State Law vs. Federal Law
As of January 1, 2018, California State law (Proposition 64) allows the legal sale of marijuana to people 21 years old and over. This State law decriminalizes marijuana in California. However, Federal law still prohibits the use or possession of marijuana in the US. Federal laws are established at the national level, and Federal laws override State laws.
International students are subject to FEDERAL law. This means that international students may NOT purchase, use, or possess marijuana, even in states where marijuana use is legal.
Possible Immigration Consequences
When international students enter the United States, their social media accounts, texts, and email are all subject to search. Evidence of marijuana use (such as photos or texts to friends about buying or using) can be reason enough for agents to refuse them entry. International students should therefore use caution when joking about drug use or illegal activity on their social media accounts, texts, or phone.   
Again, California State law does not supersede Federal policy. Your American friends might not know that you are subject to Federal law and encourage you to use marijuana. However, you are responsible for understanding U.S. laws as they apply to international students. Do not use marijuana in the U.S.
Alcohol
In the United States, the legal drinking age for buying and consuming alcoholic beverages is 21.
In the United States, the legal drinking age for buying and consuming alcoholic beverages is 21. These rules are strictly enforced, and students 21 and over should be prepared to show an accepted form of photo ID (e.g. passport, driver's license, California state ID) when purchasing alcohol or entering businesses that require customers to be 21 or older.
It is also a crime to purchase alcohol with the intent of giving or selling it to persons under the age of 21.
The information below is designed to provide students with some suggestions on how they can assist their family member(s) in preparing for a B-2 Visitor's visa at a U.S. consulate or embassy in their home countries. If students are a full-time F-1 student and plan to bring their spouse or child to stay with them in the U.S., see F-2 Dependents for instruction.
How to Apply for a U.S. Visitor Visa in a Student's Home Country
Visit the local U.S. consulate or embassy's website and follow visa application instructions. The student's family member(s) may need to submit proof of their current status in the U.S. as part of their supporting documents - the proof of their status include photocopies of their I-20/DS-2019, passport, and I-94 arrival record verifying they have entered the U.S. in F-1 or J-1 status.  Students can also provide an Enrollment Verification Letter to prove that they are indeed a full-time registered student at SF State.    
Invitation Letter and Template
Providing family member(s) with invitation letters may improve their chances of obtaining visa(s). However, there is no guarantee a visa will be issued.  The success of the applicant's request for a visa lies in their ability to prove that they will return to their home countries after the visit.
The invitation letter should be written by the person who is inviting them to the U.S., and that person should be the student.  Their invitation letter should include the purpose of their family members' visit, the relationship between them and their family member(s), a brief statement of their current status in the U.S., and their family members' planned period of stay.  Download an invitation letter template (Microsoft Word, 12KB) here.
The Office of International Programs (OIP) does not produce letters of invitation for the purpose of inviting students' family members to visit the U.S. as the invitation letters from the university are not required by the U.S Consular Offices in order for family members to obtain visitor visas.
Enrollment Verification Letter
Students can print the Enrollment Verification Letter at their online Student Center.
Invitation Letter for Commencement
If students have applied for graduation and paid the $100 application fee online, they can request a Graduation verification letter. The Graduation verification letter verifies their expected graduation date and the Commencement date. The letter also indicates that all family members are invited to the commencement ceremony.   
To obtain the letter:
Undergraduate students should send a request to SF State Registrar's Office at regweb@sfsu.edu
Graduate students should contact the Division of Graduate Studies at gradstudies@sfsu.edu.
Other Helpful Tips
Expenses in the U.S.
If the student's family members will be paying his or her own expenses in the United States, documents showing that sufficient funds are currently available must be prepared to be presented to the interviewing officer.
No "immigration intent"
Similar to when applying for a student visa, visiting family member(s) should be able to demonstrate strong family ties to their home countries and be able to show that they will return to their home countries after visiting the U.S. Examples of strong ties include documents that connect a person with their residency status, such as owning a home or having employment, a business, income, family, and/or education in their country of residence.
Dependents of F-1 students include spouses and children, and dependents are allowed to stay in the U.S. in F-2 status for the duration of the F-1 student's study, including any post-completion OPT time. Your dependent(s) must request dependent(s)' I-20s from OIP in order to apply for F-2 visas in their home countries, or file change of status to F-2 if they are in the U.S.
It is possible for a J-2 visa holder's spouse and/or children (21 and under) to accompany them during their program in the United States by entering the country in J-2 dependent status. J-2 dependents may legally remain in the United States as long as the primary (J-1) visa holder maintains legal J-1 status. 
Quick Links
Current Students
New Students
Other Resources
Last updated: February 2023
For PDF files, Adobe Acrobat 5.0 or above is required to view it. Adobe Acrobat Reader it's available free from Adobe (link is external).