New International Students Pre-Arrival Checklist
The information on this page will help international and exchange students better prepare for their transition to SF State. To help students plan better, the "💲" indicated that a fee or payment is required to complete the task. 
Setting Financial Expectations
The cost to seek a U.S. college education while living in the Bay Area can be expensive.
Even if students have provided financial proof that they can pay for tuition and living expenses in the U.S., it does not necessary mean there will be no additional cost after students arrive in the U.S. The actual expenses to study at SF State will depend on each students' personal circumstances. Students must be prepared to cover the actual expenses by themselves.
International students must have funds available to pay for the following expenses to study at SF State:
Tuition and fees (each semester)
Housing, food, living expenses (each month)
International student health insurance (each semester)
Books and school supplies (each semester)
Technology for school (as needed)
Travel/transportation/commuting expense (as needed)
F-1 and J-1 International students can not rely on U.S. financial aid, school emergency funds, or employment in the U.S. to pay the expenses above. 
Budgeting for International Students
Budgeting is important for international students to do because it will allow them to keep track of their money. All international students should create budgeting plans before coming to the U.S. to prepare for any possible future expenses or obstacles they might come across.
Visit "Plan a Budget" section on Life in San Francisco page for more information.
Finding a safe, secure housing is a crucial step to preparing for a successful experience at SF State. The average rent in San Francisco is currently $2000 or more per month for a studio apartments, and $3000 or more for one-bedroom apartments. 
See current San Francisco rent research at Average Rent in San Francisco, CA and Cost Information - Zumper.
Though San Francisco's rental prices are high, there are many lower-budget options available to students. OIP recommend all incoming students to visit OIP's "Housing in San Francisco" to understand what to expect while looking for temporary and permanent housing. 
OIP does not arrange housing for incoming new students. 
Phishing Email Scams 
Unfortunately, phishing email scams do happen frequently. New international students must be careful with emails that offered discounted deals or job offers that sounds too good to be true. See How much money different age groups lose to online scammers (cnbc.com).
General Advice
A real person will never email you about a GREAT OPPORTUNITY FOR WORK FROM HOME. Even actual, real-life recruiters will come from some legitimate source and will have email formatted in somewhat sane English.
Always double check who is sending the email. An email about a technology or account problem will never come from a random student email account.

For example, Judy with an @mail.sfsu.edu asking you to type in your password is 100% a fake email

Nobody is going to ask you to log in to your account from within an email, and nobody will ever ask you for your password as a reply to an email.
Report a phishing email
NEW!
Watch OIP's Recognizing job scams recording (Link to YouTube. Length: 4 minutes). In this video, we discussed how job scam emails looks like and what students need to do if they fall for a job scam.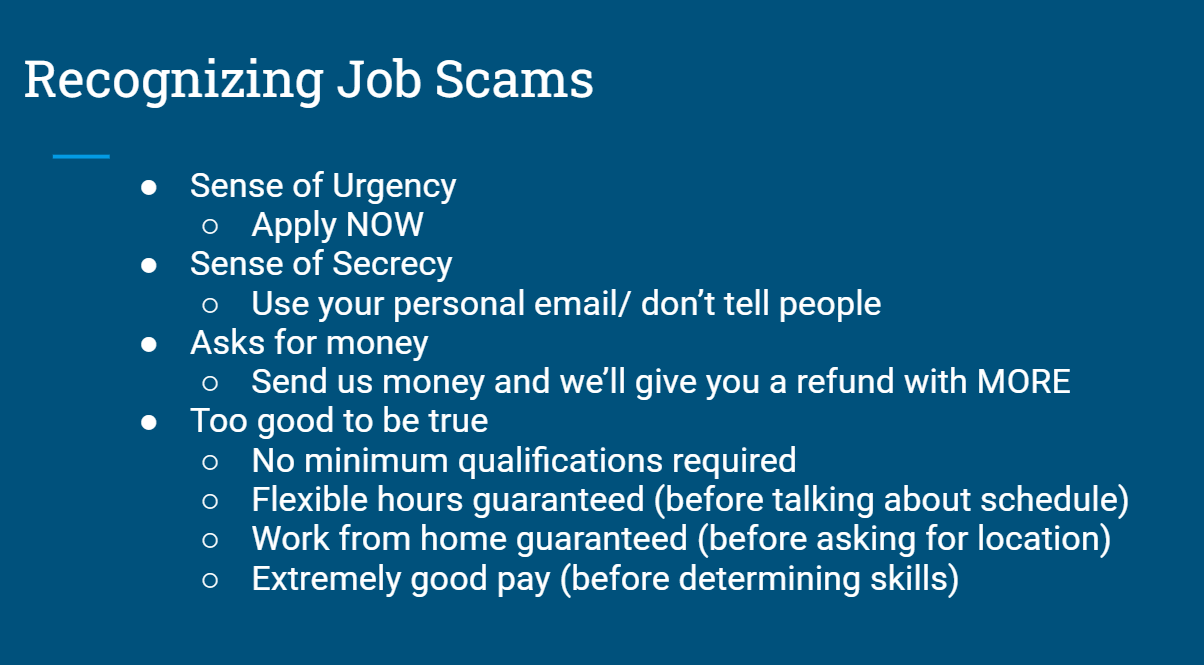 Housing Scams
A common way that scammers attempt to trick international students is through housing scams.
Before moving to the United States, international students often search for housing while abroad. Searching for long-term housing before arriving in San Francisco can be risky. For example, scammers may post fake apartment photos online and ask students to make deposit payments before they arrive in the United States or sign a rental contract.
Keep in Mind
Students should never pay a security deposit, fee, or first month's rent before they've signed a rental contract. 
Don't rent an apartment that is unavailable to see in-person before signing the contract.  
Do not provide a photocopy of a passport to the "landlord".
Further Reading
Read more about Scams and Fraud:
How to Find SF State Tuition and Fees Information
Tuition and fees information is posted on University Bursar's website.  The tuition information will be posted under the "Students" tab.
Tuition and fees are subject to change without advance notice. 
When to Pay Tuition and Fees
International students should pay tuition and fees after they are enrolled in classes every semester. The University Bursar's Office advise all students to make payments once there are charges on their account since the University can only accept the exact amount owed for tuition and fees
The deadline to pay tuition is posted on University Bursar's website.
Do not pay tuition and fees before class enrollment.  
Calculate Tuition and Fees
International students pay Undergraduate/Graduate Tuition Fees and Non-Resident Tuition Fees per unit. The Non-Resident Tuition Fee is currently $396 per semester unit.

How to Pay Tuition and Fees
Tuition is paid one semester at a time to the Bursar's Office.
The amount of the tuition should cover full-time enrollment (12 units for undergraduate students, and 8 units for graduate students). International undergraduate students who will enter the U.S. with an F-1 Student visa should prepare to pay for at least 12 units, and graduate students should pay for at least 8 units.
See payment methods on Bursar's Office website. WeChat Pay payment option is available as of July 2023.
Flywire
SF State has partnered with Flywire to streamline the tuition payment process for our international students. SF State collects international payments via Flywire using local accounts around the world. We highly recommend all international students use Flywire for tuition payment.
International students should be aware of non-refundable and refundable fees while planning to attend SF State.
Non-refundable Fees
Refundable Fees 
All fees are subject to change without notice.
Apply for a Visa
While Waiting for Visa Approval
Students should prepare to enroll at SF State while applying or waiting for visa approval. Students should clear any registration holds on their online Student Center and enroll in classes as soon as they can.
Register for Classes (J-1 Students Only)
J-1 exchange students receive a Priority Registration Period that allows them to register for up to 16 units of coursework before most other students. Priority Registration takes place several months prior to students' arrival at SF State and ends a few weeks before the beginning of the semester. Please visit Academic Calendar - SF State University (sfsu.edu) for the exact Priority Registration dates.
Please note that while OIP tries to give J-1 exchange students the best access to classes possible, we cannot guarantee access to all SF State classes due to availability, academic restrictions, and other factors. For this reason, OIP requires all participants to have backup classes in mind when building their schedule and recommends that students register for classes promptly when their registration period opens in order to ensure the best selection of classes possible.
Students register for courses through the SF State Student Center (also called the Student Gateway), which they may access after activating their SF State student account. After logging into their Student Center, students may view their priority registration dates under the "Enrollment Dates". They will also be able to view their class schedule, contact information, and other essential information.
When they are ready to register for classes, students can find detailed registration instructions here. They may also browse available courses by semester on the Class Schedule webpage.
In order to meet J-1 immigration requirements, J-1 exchange students must register for and maintain full-time enrollment status (see J-1 Exchange Students Only - Exceptions to the Full-Time Requirement for exceptions to this rule). At SF State, full-time enrollment is defined as a minimum of 12 coursework units.
Register for Classes (F-1 Students Only)
After Visa Approval/Denial
Visa Approved
Enter the United States NO MORE THAN 30 DAYS before the Program Start Date
Students should enter the United States no earlier than 30 days before and no later than the beginning date indicated on their I-20/DS-2019. While students may want to arrive sooner to find an apartment and prepare for school, U.S. law prohibits them from doing so. The only exception is for F-1 students who have transferred their SEVIS record from another school to SF State.
No Late Arrival
No late arrival is allowed.  OIP does not grant permission nor issue any letters to support late arrivals.
Research Airport Transportation in Advance
The San Francisco Bay Area offers many public transportation options that students may use to travel to the SF State campus or their temporary housing. Please visit their websites for further details and make a few plans in advance:
Muni (San Francisco's bus and light rail service)
Bay Area Rapid Transit (BART) (Bay Area rail system)
Taxi (available curbside in designated airport locations)
Rideshare services (Uber and Lyft are available in the Bay Area)
Airport Wi-Fi
Both San Francisco and Oakland airports offer free Wi-Fi. Students can use it to look up directions or book transportation from their phones on arrival. For more information about Wi-Fi and other airport services, please see below.
Carry the Required U.S. Entry Documents
When entering the United States, international students must present the following documents at the port of entry:
Valid passport with valid F-1 or J-1 visa. 
Valid I-20 or DS-2019 immigration document.
Additional supporting documentation:
F-1 students: Copies of admission letter and proof of finance for the first year of study
I-901 SEVIS fee receipt
OIP recommends that students keep their passports and immigration documents with them in their carry-on luggage when traveling. Students' family members should also have copies of these documents in case of emergency.
Temporary Housing
It is not feasible to attempt to find permanent housing immediately after getting off a plane, with luggage, and no knowledge of the city. 
OIP does not arrange temporary housing for incoming new students. We recommend that students reserve temporary accommodations before they arrive in San Francisco. First, students should have a specific destination when they arrive. If they do not have a friend or relative in the area to stay with, booking a hostel or hotel in advance is the best option.
Permanent Housing 
Be aware of housing scams. Students should never pay deposits without seeing the actual apartment themselves.
Visit OIP's "Recognizing Scams and Fraud" to understand how to avoid being scammed.
Spring 2024 Tuition Deadline
The tuition deadline is posted on the Bursar's important dates for the academic year 2023 - 2024.
Click the "Spring 2024" tab for a list of important payment and refund dates for the Spring 2024 semester. 
Questions About Tuition and Fees
Visit the Bursar's Office and send an inquiry under "Service Ticket".
Typical response time from the Bursar's Office is 1 - 2 business days (not including weekends and national holidays)
First Semester Expectations
Orientations help new students transition to SF State and connect with current students. Most orientations are mandatory, as they communicate essential information to new students about the SF State experience.
ISO Attendance is Recommended for F-1 International Students
January 24, 2024 - Day 1 
Fully In-Person and FREE event! Registration is not required.
Date: January 24, 2024
Time: 8:45 AM (California time): Doors Open for Check In/Breakfast included (first come first serve) 

Bring an SF State Student ID card if possible or memorize your SF State Student ID Number 
9:30 AM (California time): Programming Begins  
1:00 PM (California time): Programming Ends 
Location: 

SF State Student Life & Events Center (Annex I)
1 North State Drive, San Francisco, CA 94132

Learning Objectives

Students will learn about the Division of International Education/Office of International Programs
Students will learn about SF State campus services & resources
Students will connect with current students and faculty at SF State and have a chance to ask questions 
Students will have the opportunity to attend an information fair with bank/phone companies and student organizations
January 25, 2024 - Day 2
*****F-1 international students only*****
Zoom registration is required (an invitation will be mailed to students who have accepted AAO)
Date: January 25, 2024
Time: 

9:00 AM (California time): Programming Begins 
11:00 AM (California time): Programming Ends 

Location: Zoom
Learning Objectives 

Students will learn about F-1 regulations, employment opportunities, and work authorization.
Students will meet your international student advisors and have a chance to ask questions
Students will go through a virtual "document check-in" to review their immigration paperwork.
ISO Attendance is Mandatory for J-1 Exchange Students
As per J-1 immigration regulations, exchange students must attend orientation.
Students will receive orientation information from the Exchange Advisors.
In accordance with the California State University Policy Executive Order and the Center for Disease Control and Prevention (CDC), San Francisco State University (SFSU) has implemented immunization requirements and recommendations. 
All incoming international students need to complete a TB (Tuberculosis) Risk screening within Student Health Services' MyHealth before coming to the SF State campus. 
Students who are under 18 or living on campus will need to provide proof of immunization. 
SF State students are occasionally required to complete mandatory training regarding several topics related to academics and campus life. Notifications for mandatory training will be communicated via SF State student email.
For example, all incoming students must complete a mandatory sexual violence prevention education training online during their first semester at SF State (more details available at Sexual Violence Prevention Education Online Training). Academic departments and other offices may also require that students complete training before coming to campus, using the school laboratories and equipment, etc.
Please pay attention to these training requirements and complete them in a timely manner by the deadlines provided. 
Quick Links
New Students
Current Students
Other Resources
Last updated: December 2023
For PDF files, Adobe Acrobat 5.0 or above is required to view it. Adobe Acrobat Reader it's available free from Adobe (link is external)